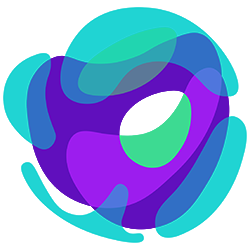 Introduction to Robotics STEMbox Kit
Assembled in Africa, designed for young innovators.
Embark on a Journey of Discovery with Sciency's Introductory Robotics Kit – Part 1! 
Unleash the potential of your young innovators with our cutting-edge Introductory Robotics Kit. Designed for beginners and aspiring tech enthusiasts, this kit is your gateway to the fascinating world of robotics and coding. 
Key Features:
Hands-On Learning: Dive into interactive projects that make learning a joyous adventure.
User-Friendly: No prior experience needed. Our step-by-step guide ensures a seamless learning experience.
STEM Education: Foster skills in Science, Technology, Engineering, and Mathematics from an early age.
Creativity Unleashed: Encourage imagination with customizable projects and challenges.
Quality Components: Built with durable, high-quality materials for long-lasting exploration.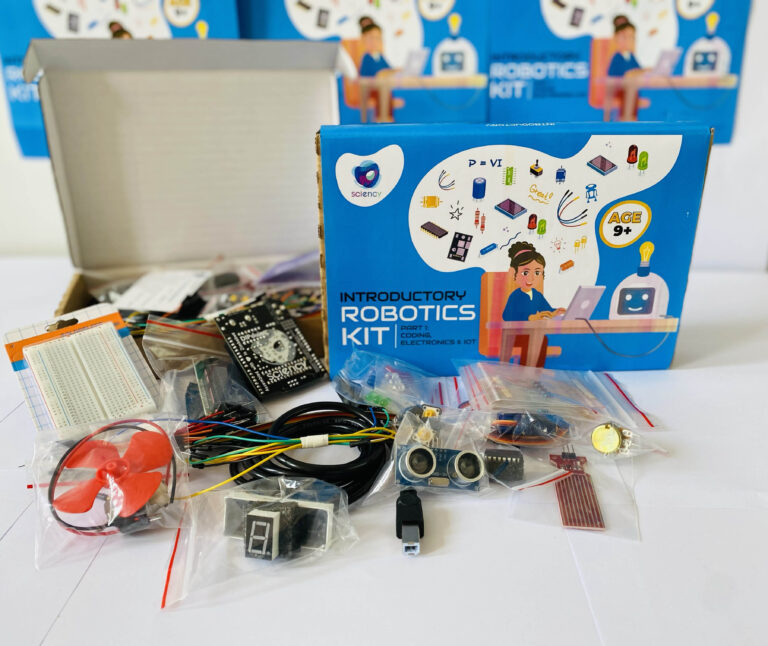 What's Included:

This kit comes complete with a unique Microcontroller called the Dipduino, along with essential components like a breadboard, jumper cables, LEDs, resistors, underwater depth sensor, button switches, passive buzzer, active buzzer, servo motor, ultrasonic sensor, plastic boat propeller, 4-digit seven-segment display, stepper driver chip, LDR, LCD1602, 7-segment LED, 4-digit seven-segment LED, DC motor, and a USB cable. With the potential for over 100 hands-on projects, this kit also offers 12 enriching video lessons. You'll have access to the source code files, and the ability to upload your projects for certification.
Online Course:

Online Robotics Course Included.

With 12 guided video sessions and many more videos for personal projects, you are in for an exhillarating adventure of practical sessions that will bring out the innovator in you!

You will also get a Certificate upon completion of the course.
Technical Specifications

Powering the kit is a Custom Sciency Dipduino Microcontroller which uses Through Hole Technology (THT) and is hand solderable.
Shipping and Delivery:

Shipping and Delivery will be through Courier Guy or Bobshop Go and is included when you do your Checkout Nationwide in South Africa.
Returns and Warranty :

Returns:

30-Day Return Period: Customers have a 30-day period from the date of purchase to request a return.
Condition: Kits must be returned in new, unused, and resalable condition. Any signs of wear or use may result in a partial refund.
Original Packaging: All components, manuals, and accessories must be returned in the original packaging.
Return Authorization: Customers must contact Sciency's customer support to request a Return Merchandise Authorization (RMA) number before returning any product.

Warranty:

Limited Warranty: Sciency provides a limited warranty for a period of 14 days from the date of purchase.
Covered Defects: The warranty covers defects in materials and workmanship under normal use and proper handling.
Exclusions: The warranty does not cover damages resulting from accidents, misuse, neglect, modifications, or unauthorized repair.
Return Process: To initiate a warranty claim, customers must contact Sciency's customer support for evaluation and potential replacement.
Shipping Costs: Customers are responsible for shipping costs associated with returns or warranty claims unless explicitly specified otherwise.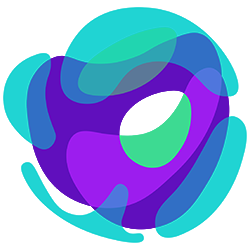 Robotics Starter Kits for Everyday Learners
Robots are the future. In fact, they are already such a massive part of our everyday lives. It's only going to get more common place as we progress through the 21st century. Our kit delivers the basics of coding and robotics through Arduino technology.
Complete with 27 lessons and Code samples that take learners step by step into assembling and programming the individual components.
Comes with 86 parts, 27 unique sensors which allow learners to develop simple – complex applied robotics projects.
The kit is designed for the average African learner whether in primary(8+), secondary, or tertiary, we have made sure that its curated to the learners' level.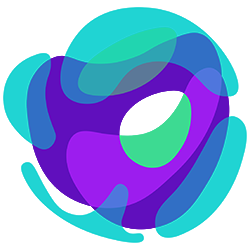 Reasons to Choose the STEMbox Kit
Using technology to stimulate applied STEM interest amongst primary and high-school learners.
"The Sciency Introductory Robotics Kit has been a game-changer for my child. It not only made learning about robotics fun and engaging but also instilled problem-solving skills. The hands-on experience provided by the kit is unparalleled, and I can see the confidence in my child growing with each project completed."
"As a teacher, I'm always on the lookout for educational tools that captivate students' interest. Sciency's Robotics Kit exceeded my expectations. The step-by-step instructions and quality components make it easy for students to grasp complex concepts. The excitement and sense of accomplishment in their eyes are priceless!"
"I purchased the Sciency Introductory Robotics Kit for myself, a beginner in robotics. The well-designed kit and comprehensive guide allowed me to enter the world of robotics with confidence. The interactive learning approach and the ability to experiment with different projects have ignited a passion I never knew I had. Highly recommended for anyone eager to explore robotics!"